Si algo es incompatible con la carnavalización estética como acto de subversión de la música metal, decídmelo.

Hemos visto judíos haciendo metal, hemos descubierto lo anticomercial del género "freak metal", la televisión pública ha hecho lo que ha querido: el anuncio de la ONCE, el heavy del Kitkat, José Mota, Muchachada Nui... El heavy nacional incluye versiones de Antonio Machín (Katie King), homenajes a los Monty Python (Stunned Parrots), se ha reído del sexo (Lujuria) y un sinfín de ejemplos al que cualquiera podría añadir su propia lista...
Al final resulta que el edificio de la communitas posmoderna se construye destruyéndolo y el recurso antisistema pasa por ese filtro de la crítica menipea. Al menos, ofrece un halo de sinceridad y de paso, un infinito debate entre quienes están a favor y quienes están en contra de estos procesos de autorridiculización.
La crítica menipea y satírica del heavy metal es fundamental para mantenerlo cuerdo, no os quepa duda nunca. Y si algo quedaba por mezclar, era black metal y el arte culinario vegano. En cualquier caso, es un proceso digestivo (nunca mejor dicho) muy necesario.
El Arguiñano del black metal se llama en realidad Brian Manowitz. Tiene 30 años y vive en Orlando, Miami. De ser un absoluto desconocido ha pasado a ser entrevistado por diarios tan serios como el 'Washington Post', que lo sitúa como un ejemplo más de los "cocineros extremos" que circulan por Internet y que están atrayendo a un ingente público joven. En El País, la entrevista.
Sin embargo, esta idea no es completamente original. Dos ejemplos bibliográficos: le anteceden: Mosh potatoes: recipes, anecdotes and mayhem from heavyweights of heavy metal (2010), que recopila más de 100 recetas elaboradas por destacados grupos como Motorhead, Megadeth, Anthax, Type O Negative, Pantera o Dream Theater; y Hellbent for cooking, publicado en 2009 por la canadiense Annick Giroux, con recetas de bandas como Gorgoroth, Blasphemy, Denial of God (con la receta de Cura de rigor mortis de huevos fritos) o de Death (Richard Christy y su cóctel Testículo de vikingo.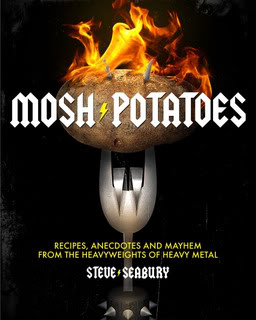 http://veganblackmetalchef.com
http://www.hellbentforcooking.com/